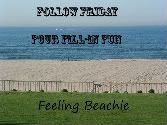 "/>
Welcome to the Follow Friday Four Blog Hop! Each week, Hilary at Feeling Beachie posts Follow Friday Four, an awesome blog hop with four fill-in-the-blank statements and a linky to link up and check out everyone's posts! It's a fun meme that I haven't done for a while, but am wanting to get back into. Here's this week's:
This week's statements:
1) I am so ____ for my _____
2) ____ me, I ______
3) I am _______ at keeping secrets.
4) I ____ that _____ was here already.
My answers:

1) I am so grateful for my kids & my boyfriend.
2) Don't bother me, I am reading!
3) I am okay at keeping secrets. Depends what it is and who it's from.
4) I wish that bedtime was here already.
What about you? Fill in the blanks and link up with us!
Related Posts