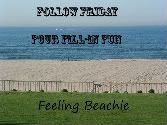 "/>
Follow Friday Four Fill In Fun is a weekly meme hosted by Feeling Beachie! Make sure you check out the other blogs participating in the Linky below, and be sure to add your own post. 🙂
This week's statements:
1) I get so _____ when ______
2) ____ is my favorite ____ for _____
3) I would rather ___than any____to make my life easier
4) The one safety rule that is always followed at my house is ___because____
My answers:

1) I get so excited when it's Friday!
2) Fall is my favorite season for reading.
3) I would rather be independently wealthy than anything else to make my life easier.
4) The one safety rule that is always followed at my house is strapping the baby into her booster seat because she's a dare devil with no fear!
Related Posts