This book may be unsuitable for people under 17 years of age due to its use of sexual content, drug and alcohol use, language, and/or violence.
Sharing You by Molly McAdams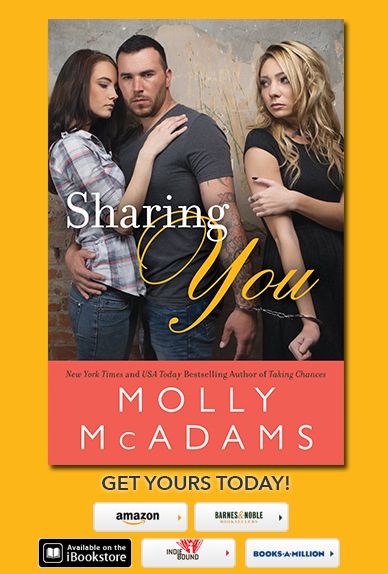 Twenty-three year old, Kamryn Cunningham has left all she's ever known and moved to a small town where no one knows her name, who her parents are, or her social status in the horseracing world. Months after opening her own bakery and evading attempts of being set up by her new best friend, she meets Brody. But Kamryn fights the instant pull between them because there's a detail she can't dismiss. Brody's married.
To say that twenty-six year old, Brody Saco has had a rough marriage would be an understatement. After marrying his pregnant girlfriend, he spends the next six years in a relationship filled with hatred, manipulation, and guilt involving a tragedy that happened five years earlier. When he keeps running into his sister-in-law's best friend, Kamryn, he can't ignore that she makes him feel more with just one look than his wife ever has; and soon he can't continue fight his feelings for her.
When staying apart proves to be too difficult, Brody and Kamryn enter a relationship full of stolen moments and nights that end too soon while they wait for Brody to file for divorce. But the guilt that comes with their relationship may prove to be too much for Kamryn, and Brody might not be strong enough to face the tragedy from his past in order to leave his conniving wife.
Olivia Reynolds Saco aka "the wife"
Ugh, I have nothing nice to say about Olivia, at all; and it's not because I want Brody with Kamryn. Don't believe me? Let's dive in and get to know Olivia, and then you can decide for yourself. Olivia loves money and power. She grew up in a country club home and looks down on anyone who hasn't—including her husband, Brody. She loves that her parents hate him and are constantly telling him he's not good enough/doesn't make enough to support Olivia. Well, when you buy another luxury car to match the other new one you have … it's kind of hard to make enough money to support those kind of habits, and she knows it. Olivia has never worked a day in her life, and whatever Brody is able to save up, she is ready to blow on any and everything she can get her hands on—but it isn't just because she loves having the newest things. This is like therapy to her. No. Really. Therapy.
After devastation struck their small home years ago, this is what Olivia needs to do in order to feel some kind of peace. It makes her feel important to Brody, it makes her feel as if she's taking care of him since she can't take care of anyone else. It kills her that she feels like she's not enough, and she feels trapped inside a body where emotions run wild. The screaming, the throwing things, the sobbing, and the psychotic form of seducing her husband isn't really her. It's product of suffering through what happened all those years ago. Or it's just the best acting she's ever done.
Because Olivia really isn't that unstable person. She's confident in herself and her daddy's money, and she knows that Brody is one step from leaving her—not that she would mind exactly … she would just miss the high she gets from feeling like she is controlling someone. So she does what she feels like she has to; she becomes emotionally and mentally unstable to ensure that her husband will never leave her, even when she's never home half the time anyway. She's at her parents' house, most of the time … the rest of those days she's gone … well, that isn't something you deserve to know—according to her.
When Brody starts spending more time with his family, she knows she needs to kick it up a few notches since those people are always trying to get him to leave her. She calls him constantly, she has more episodes than usual, and she knows she has him right where she wants him. Brody really is pathetic, and it's one of the fun topics between her girlfriends and her. It isn't until after Brody tells her he wants a divorce that she realizes all her ploys to keep him didn't work—and not long after, she finds him with the cupcake girl. A girl she knows has a secret, one Olivia's ready to go public with. Olivia knows she can't get Brody back, but she can do everything in her power to make sure he won't forget her for the rest of his life—it's the least he deserves for leaving her and making her look like a fool.
Molly's Daily Question: Do you still think Olivia is the victim in this triangle?
SHARING YOU Excerpt: Part 3
"I don't have condoms." He looked to the side and blinked a few times, his brow furrowed. "God I can't even remember the last time I bought any."
Brody's hands preventing me from continuing only made me want this more. I flexed my fingers and knew that this stop was a good thing, something we should probably take advantage of. But I didn't care. "Are you clean?" I asked softly.
"Yes, are you?"
I nodded. "And I'm on the pill."
I'd barely finished my sentence before Brody had both of us off the couch, my legs around his hips, and was walking. "Room, Kamryn, where is it?"
"Down the hall, last door on the right."
His mouth captured mine again as he turned toward the hall and began taking long strides. Not two feet from the opening his pants fell the rest of the way down and Brody tripped, sending us crashing into the wall. Our kisses never faltered, even throughout our laughing, but I unwrapped my legs from his hips as he hurriedly stepped out of his boots and pants. When he kicked them to the side, he grabbed the backs of my thighs and pressed his hard on against me as I wrapped my legs back around him.
"Bed … bed," I pleaded around his lips, and once again he was walking us toward my room.
We made it the rest of the way without incident, and fell in a mess of searching hands, and tearing clothes onto the bed. My tank was somehow on the floor before I was fully on my back and I reached up to crush our lips together as his hands pulled my sleep shorts off at the same time I reached for the waistband of his dark boxer briefs.
His erection sprang free, and I didn't even try to continue pulling his briefs down the rest of the way as I took his length in both of my hands. Brody groaned and his head fell to my shoulder as I watched both hands make their way up him. Letting one of my hands leave to edge the waistband down his hips, the other slowly pumped from base to head, and I couldn't take my eyes off him. Everything about him was incredible and perfect.
"Babe—I haven't been with anyone in years, so this already isn't going to last long; but if you keep doing that it's gonna be over before it can begin."
I bit back a smile at his confession and leaned my head back when he started leaving open-mouthed kisses on my neck, and guided him to me. We both stilled for a few seconds, a harsh breath leaving him when he pushed into me; and I wanted to cry in frustration when his body left mine before he was slamming back into me. His name left my lips in a breathless whisper when he began moving inside me, and my fingers curled into his back as his pace quickened.
I could feel the muscles in his back tightening, and the pull in my lower stomach grew as I reached my climax.
"Come on," his gruff voice whispered in my ear. "Give me one more."
Bringing his hand between us, he rolled his fingers against my clit and I whimpered incoherent words as the mix of him moving inside me, and his hands on me, sent me over the edge. It felt like my body was suspended in air for long seconds before it came crashing down and Brody's body shuddered beneath my fingertips as he followed me into his own orgasm.
Brody lazily kissed up my throat until he reached my lips, and I figured out how to release my death grip on his back to pull my hands through his dark hair as I returned the slow kiss.
"God, Kamryn. I don't think I'll ever be able to get enough of you. Not after that."
I smiled against his lips, and feeling his hard length still inside me, pushed him back and rolled us over until I was on top of him. He groaned when I moved my hips, his hands flying back to grab them. I'd been afraid he was about to stop me, but his fingers flexed against my skin before pressing me harder against him. Sitting up, I let him lead our movements, and my head fell back from the feel of the new position. This time was slow and controlled as we took our time getting to know each others body, but the heat and passion only seemed to grow.
My body curled over his, and I pressed my forehead into his chest when it was over. Every part of me felt like it was floating, and at the same time, I couldn't find the strength to move from where I was laying on him.
"Come here," he said as he pulled his body from mine and wrapped his arms around me.
Pressing a kiss to my lips, he tucked my head under his chin and messed with the comforter until he could pull it over us.
"You'll stay?" I asked as I pressed closer to him.
"I need you in my arms right now," he said simply. And just before sleep claimed me, I heard him say, "I'm not going anywhere."
Molly will be chatting with her fans about love triangle, cupcakes, and her AMAZING books on Wednesday, 7/2, from 3-4PM ET, using #SharingYou. Be sure to tune in for more fun!
Related Posts